Last night PropTrackr Real Estate Management Software released another set of updates to improve the system. The first thing that our clients are going to notice is NEW filtering system on the properties page. This new filtering system will allow our clients to locate, organize and narrow down the exact property details in less time. We know there is no longer a search bar in the top corner, but instead we have improved the ability to sort/filter by, utilizing these separate grids to organize your real estate properties will allow our clients to handle more properties with less effort. Can't find that contact associated with a property? Well this is now SOLVED with the PropTrackr Filtering system. Simply click on a grid or column drop down (screen shot below) arrow and navigate to columns and choose the columns you would like to see. With this new feature you can now organize your properties by associated contacts allowing you to see all the properties that each contact is associated with.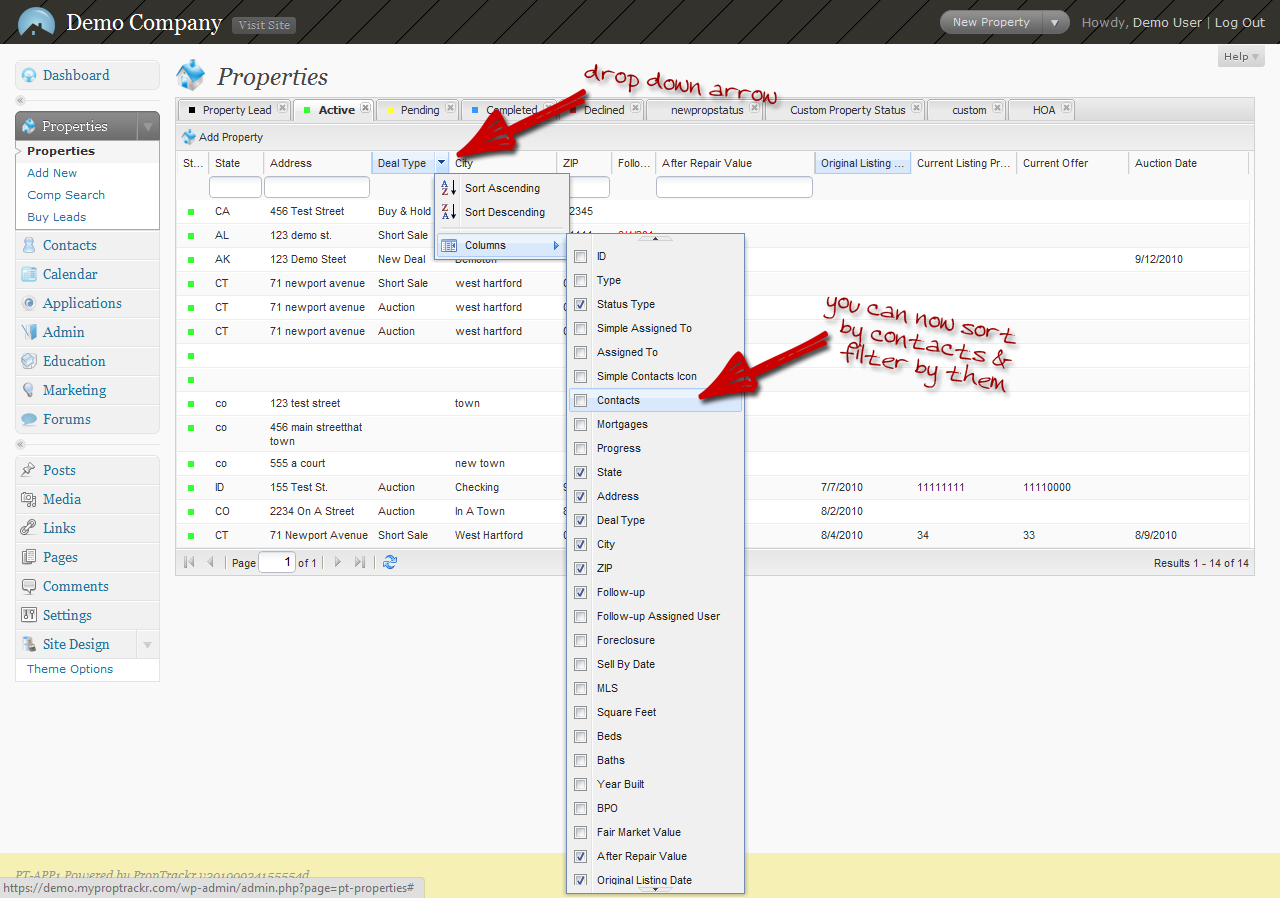 Along with the new filtering system the Contact Rolodex has a new look and functionality. The new look allows our customers to see a list of contacts on the left and the contacts details on the right. With the new functionality of the contact we have listened to your suggestions and you can now add your custom contact type. Simply navigate to the admin configuration section and there will be a new tab for contact types. Organize and sort your contact list the way you want!
Below is a list of the updates from last nights release.
SYSTEM UPDATES & NEW FEATURES
New filtering ability on property list.
Ability to create custom contact types.
Print details to include latest property information.
Updated the contact listings
BUG FIXES
Print Note Details updated to be consistent with look of property detail print
User Interface updates to action plans.
Update to note requirement field.
Client side document upload.
Bug fix on latest 5 property leads.
Update to client side mortgage features.
WordPress Post Scheduling broken.
Bug with SSL on "Properties" link
UPCOMING SYSTEM UPDATES
Action plan logging.
Continued work on soon to be released import properties.
Do you have some suggestions for us? Stop by the support center and let us know, we would love to hear from you on what you would like to see improved with the PropTrackr Real Estate Management Software. Let us know what you think about these new updates and fixes are they working for you? Contact us and we would be more than happy to take some time out and help you better understand the system.