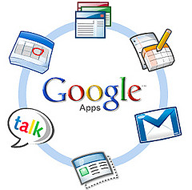 In the busy world of Real Estate professionals, organization is a critical aspect. Considering all of the work that needs to be done, any tools available can help.
We recommend Google Apps because it has powerful functionality that may be helpful to your business and because, since it is all web based, you can access it from anywhere you have an internet connection (just like PropTrackr).
Google Apps is free for up to 50 users, can be customized to your domain (including e-mail addresses), and comes with:
Google Apps can be used with any web domain. For example, if your website is 'example.com', the e-mail app will be located at 'mail.example.com', your calendar will be located at 'calendar.example.com' and your e-mail address would look like 'email@example.com'
We hope that you find these tools useful, and we look forward to sharing more tips.
Thanks,
The PropTrackr Team